Join Us in Regenerating Earth!

What started in 2020 as a study group has evolved to applied projects in ecosystem restoration, regenerative finance, and more.To keep walking this pathway in 2023, Earth Regenerators are raising money to support creating a global network of bioregional learning centers.
In 2021, the Earth Regenerators Fund formed to do fundraising, participatory budgeting and project grants. It's led us to understand what works, partner with a US 501c3 non-profit, and creating Vivero – a new app to enable fund accounting and social features in supporting regenerative projects. Take a look at what you can help support!
Supported Projects
A portion of funds may be used to cover Earth Regenerators infrastructure costs (e.g. Mighty Networks, Zoom, etc.), see our latest appeal here.
Vivero is a Spanish word for Nursery
A term used for tree and plant nurseries where new fragile seedlings and cuttings are propagated, protected, and nurtured until they are ready to be planted into their final habitat.

🌱
Sprouting Seedlings in Earth Regenerators
Just two and a half years ago - in 2020 - a beautiful vision for creating a global network of bioregional learning centers was cast before a handful of hopeful souls. Inspired and energized, they came together to gather, and named themselves Earth Regenerators.
Today, we are a global virtual community of 4,000+ people who care for Mother Earth in all her diversity. We engage pro-socially together in hands‑on learning, experiential education, and prototyping bioregional approaches to organizing and stewarding the land.

💚
You can make a difference!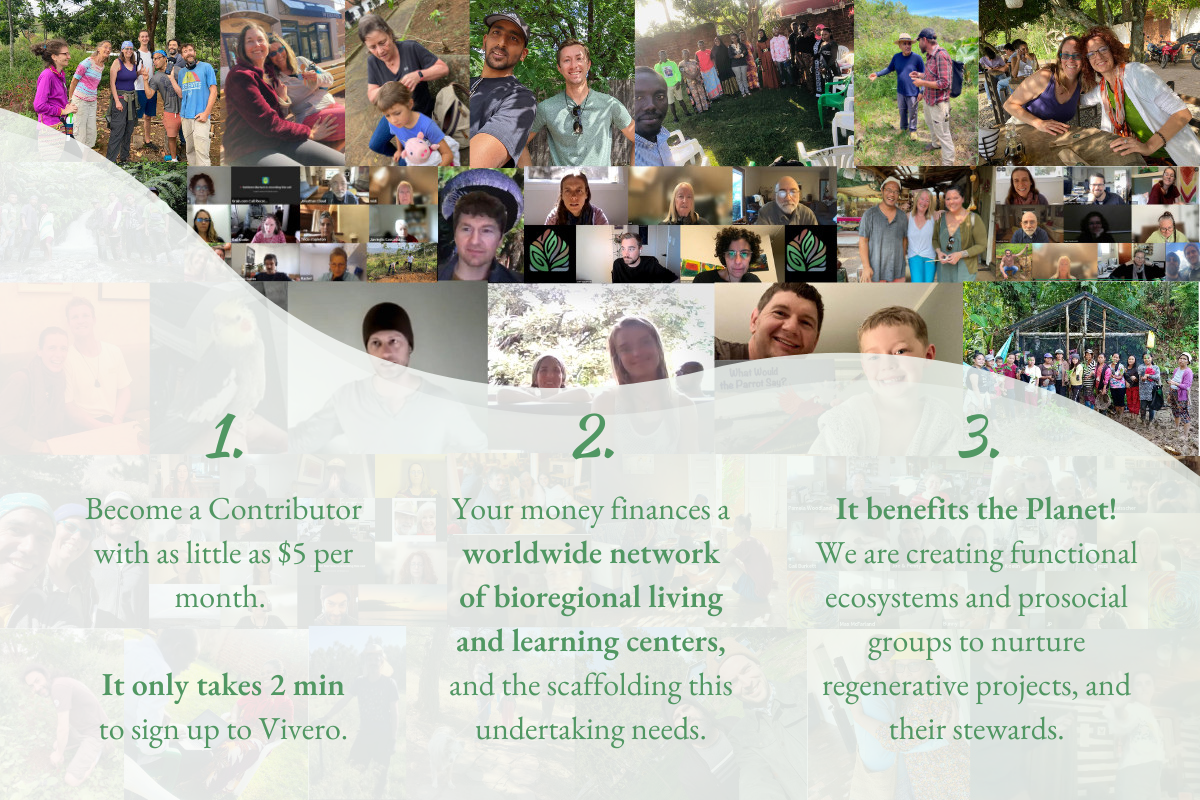 Make Earth Regeneration happen, today!
With you, we can become millions regenerating the Planet!
Become a Contributor!
Frequently Asked Questions
Why the name Vivero?
Vivero is derived from the Latin vivo (to live) and is a term used for nurseries where fragile seedlings and cuttings are propagated, protected, and nurtured until ready to be planted.
The vision for Vivero in Earth Regenerators was brought into existence by member Rachel Olson.
What exactly is Vivero?
Vivero is a community engagement space that supports members of Earth Regenerators to share and receive multiple forms of financial and non-financial resources with one another.
Emerged from within the community, its purpose is to support us on our mission to steward the wellbeing of a growing interconnected global web of bioregional living and learning centers. This multi-platform interface makes it easy for you to donate to our evolving ecosystem, engage in decision-making processes for fund allocation, and allows for transparency so you can see how and where your contribution is making a difference.
How does Vivero work?
The ER Vivero Circle, nested within the Earth Regenerators Fund Group is utilizing existing software tools, ie. Loomio, Open Collective to experiment with fundraising and decision making processes to inform the development of the Vivero App, launched in November 2022.
Why contribute to Vivero?
By donating a relatively small sum of money each month you help to strengthen the caring economy that our community is dedicated to creating. Sums harvested through your donations are governed by the ER Fund Governance Group, and support community members and/or their projects. Together we can support to raise up a worldwide network of bioregional living and learning centers and provide financial support that enables people, groups and whole communities to steward and regenerate Earth.
Where can I find the Vivero App again?
You can find the Vivero App here.
How much can I donate?
Vivero invites you to donate between US$5 to US$100 a month. Within these limits it is entirely up to you how much you are able and feel called to contribute. We are grateful for any donation, and deeply value the difference you make.
What if I want to contribute to Vivero but can't afford the monthly minimum donation?
Some of us are in the same boat as you! Our Vivero vision is to grow the ER community's financial capacity and circulatory flow, so that our trusted members who need money to support their right livelihood and engage in regenerative activities can receive it. We value all forms of capital in Earth Regenerators, including your time, skills and commitment to support Gaia and your ER friends. We welcome you and your unique gifts of service in Mighty Networks.
What if I want to contribute to Vivero but I don't want to sign up for an app?
That's all good. We deeply appreciate your willingness to contribute and welcome your gifts through Vivero Open Collective.
Are there other ways to contribute to the ER Fund Group outside Vivero?
Yes, there are. We know that there is no one solution that fits all, so we offer a range of contribution channels.
Other ways to contribute to the ER Fund Group are:
direct transfer to the ER Fund account — Account 814779695 (Routing number 221283512) (Affinity Federal Credit Union, NJ)
Check or Bill Pay to "CRCS/ER Fund," c/o 41 Elwell Drive, Rochester, NY 14618
Can I get a tax receipt for my donation?
Yes! Everyone who contributes to Vivero receives a receipt acknowledging their donation. Because Vivero is under the fiscal sponsorship from a 501c3 non-profit, Possible Planet, US tax payers are eligible for tax deductions on their Vivero donations. Additionally Open Collective provides us with the right infrastructure to issue receipts and invoices. If you are not in the US, you may need to seek advice on your tax eligibility to claim in the country where you pay your taxes.
Vivero and You!
Together, we make Earth Regeneration happen.
Sign me up!
Vivero is a collaborative community initiative of
Possible Planet
,
Serve Commons PBC
, and Earth Regenerators.
Contributions made through Vivero are received by the Earth Regenerators Fund and governed by the community-led ER Fund Group.