Join Us in Regenerating Earth!

What started in 2020 as a study group has evolved to applied projects in ecosystem restoration, regenerative finance, and more.
To keep walking this pathway in 2023, we are raising money to support our community members in regenerating Earth.
In 2020 Joe Brewer started Earth Regenerators as a study group for his book 'The Design Pathway for Regenerating Earth'  - attracting many caring souls rather rapidly: In three years, the study group has grown into an online network of thousands, inspired and committed to live our core purpose of activating an interconnected action-learning network of bioregions and regenerative landscapes across the planet.
In 2021, the Earth Regenerators Fund formed with the words 'We're here together in heart space and uncharted waters to co-midwife the birth of something new'. One fractal of this something new is a regenerative finance platform within ER for giving and receiving.
First fund experiments gifted seed money and support to people and projects across eight bioregions.
Supported Projects
Vivero is a Spanish word for Nursery
A term used for tree and plant nurseries where new fragile seedlings and cuttings are propagated, protected, and nurtured until they are ready to be planted into their final habitat.

🌱
Sprouting Seedlings in Earth Regenerators
Vivero needs the resonance of the community to prosper. The community needs the resonance of Vivero to prosper. Only Six months after the Vivero App Beta Launch, and almost to the date of the first Anniversary of Vivero, we opened the first Vivero fund distribution round, a Call for Application to all ER members.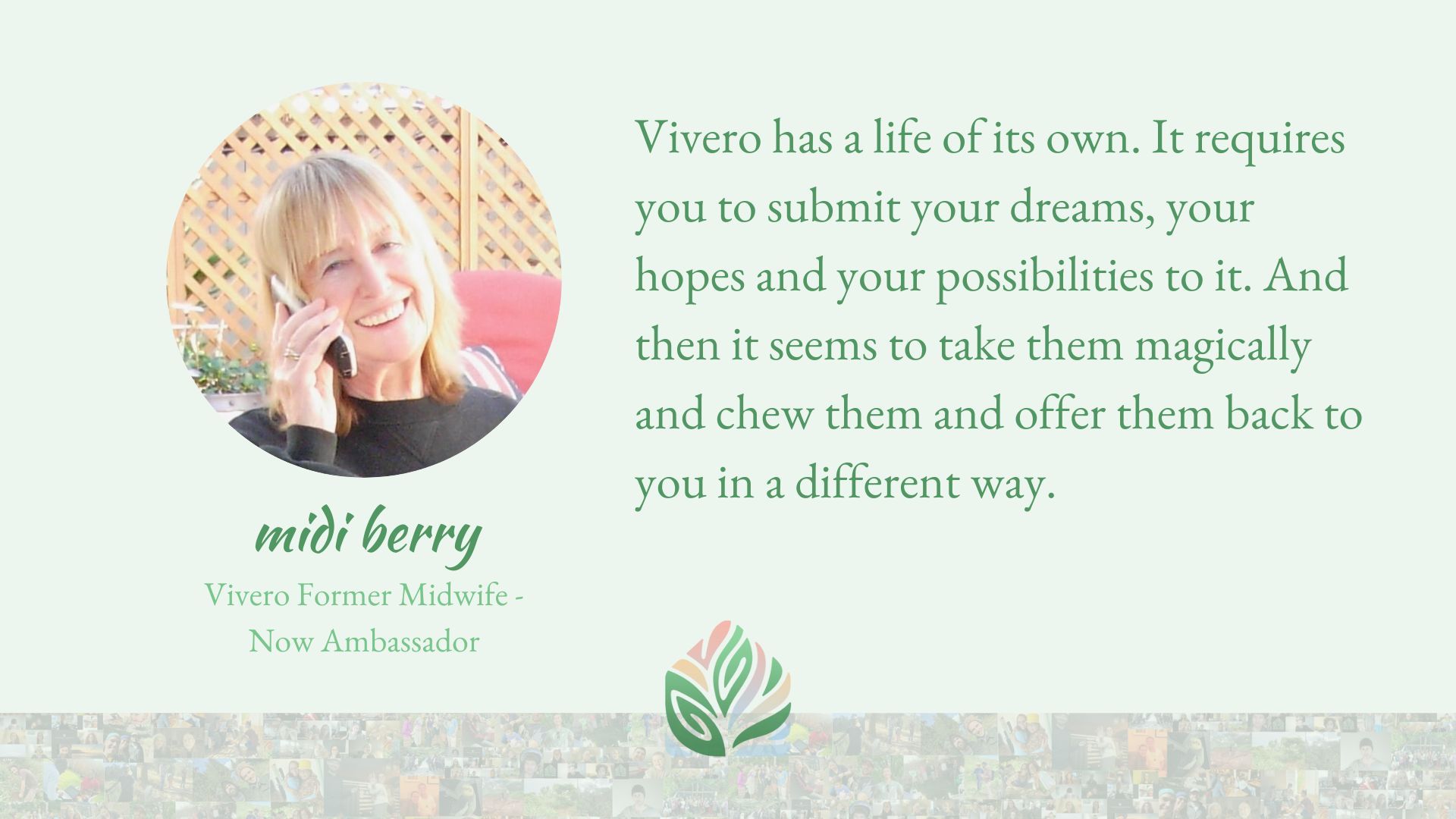 Vivero: a regenerative finance and social platform
Community-owned and -governed multi-capital and -currency infrastructures like Vivero need multi-layered interconnectivity. The challenge is not only to connect the social, financial, and legal ledger but also to honor the dynamic relationships between people and earth, giving and receiving, financial and non-financial resources, as well as fiat and cryptocurrency.
💚
You can make a difference!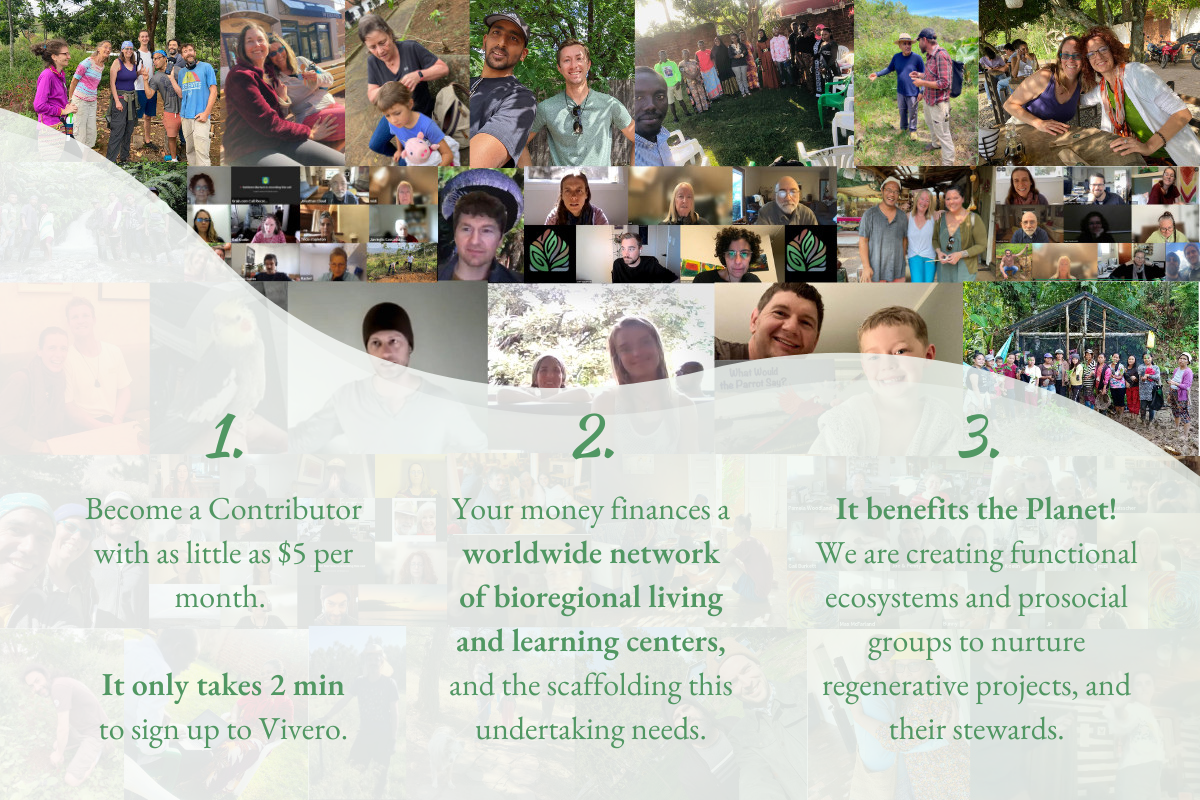 Make Earth Regeneration happen, today!
With you, we can become millions regenerating the Planet!
Become a Contributor!
Frequently Asked Questions
Why the name Vivero?
Vivero is derived from the Latin vivo (to live) and is a term used for nurseries where fragile seedlings and cuttings are propagated, protected, and nurtured until ready to be planted.
What is Vivero?
Vivero is an interactive, community-centered application that enables fund-raising and a gift economy for Earth Regenerators. Inspired and developed within the community, its purpose is to nurture and support ER members as they grow an interconnected global web of bioregional stewards.
Vivero's web and mobile interface makes it easy to give to people and regenerative projects within our evolving ecosystem, as well as to nominate potential beneficiaries for gifts and make decisions for fund allocation. The transparency of Vivero's platform enables you to see how and where your contributions are making a difference.
How does Vivero work?
Vivero uses a combination of software tools for different functions, all integrated within the Vivero mobile app, which is available in web format.
Vivero is being co-developed and stewarded by the ER Vivero Circle. This volunteer working group is nested within the Earth Regenerators Fund Group and its role is to:
Develop and refine Vivero technology and applications,
Coordinate Vivero giving and receiving,
Facilitate Vivero community engagement and collective decision making,
Propose Vivero policy to the ER Fund Group as well as keep the group updated,
Broadcast Vivero throughout the ER ecosystem and beyond.
Vivero Contributors and Beneficiaries are encouraged to communicate and engage directly with the working group and with each other, to become full collaborators in developing, testing and refining Vivero within the ER community.
What is a Vivero contributor?
Contributors have initially been defined as those who make financial gifts to Vivero. In keeping with our Earth Regenerators 'Spirit of the Gift' economy, which recognises and values giving of many different kinds, a feature is being developed to enable ER members who are recognised for making non-financial contributions in Earth Regenerators to become Vivero contributors and/or beneficiaries. When this feature is in place, non-financial contributors will be able to:
nominate themselves and seek two additional signatures from existing Vivero contributors who can speak for their contribution/s in ER, or
be nominated by three Vivero contributors ready to speak for them.
Their Vivero account will then be marked as Contributor enabling them to enjoy full equivalence with Vivero financial contributors.
A Vivero contributor is empowered to nominate potential beneficiaries. In our Vivero Loomio group, they can give feedback and contribute ideas for Vivero development, as well as interact with beneficiaries applying for gifts. Contributors have a direct voice in allocating gifts.
What is the distinction between a Vivero potential beneficiary and a beneficiary?
In Vivero, a potential beneficiary is a contributor who is nominated or self nominates to become a beneficiary and has yet to receive a gift/gifts through the ER Fund. A nominee needs three signatures from recognised Vivero contributors in order to become a potential beneficiary
In Vivero, a beneficiary is someone who has received financial support from the ER Fund.
Vivero invites all beneficiaries, both actual and potential, to share dreams and project visions, to report on activities and learning experiences as well as to invite collaboration if appropriate.
Many spaces exist in Vivero and ER for telling your regenerative story: you can post in the Vivero App, Vivero Loomio, Vivero Open Collective and ER Mighty Networks Vivero group.We also encourage live sharing in an ER Campfire and/or the Regenerative Project Incubator. As you share your story within the community, you gain support, advice and encouragement from your peers and you activate a spirit of abundance to manifest around you.
Why contribute financially to Vivero?
The Vivero vision is to raise a worldwide network of bioregional learning centers and on-the-ground projects, enabling individuals, groups and whole communities to steward and regenerate Earth together. By donating a regular sum of money each month into Vivero, you can fuel that vision and help to weave the fabric of a caring gift economy within our ER community.
Gifts harvested through your donations are allocated through collective decision making to nominated ER community members and their on-ground projects. Gifts are administered by the Vivero Circle and ER Fund Group, and anyone in ER is welcome to become active in these groups.
How much can I donate and what fees do I pay?
Sharing the act of giving across our whole ER network strengthens our community's capacity to support itself. Spreading the task of giving among many of us enables us to support people and regenerative projects beyond what any of us can do individually.
We invite everyone in ER to consider donating between US$5 and US$100 a month, according to your means. You can make one-time donations of any amount, large and small, at any time. You can start and stop your monthly contributions whenever you need to. It is entirely your choice how much you give and how often.
A fee is assessed by the payment facilitator, Stripe. As a fiscally sponsored non-profit, we benefit from reduced fees for both one-time and monthly contributions, as follows:
2.2% + $0.30 for non-Amex cards
3.5% for Amex cards
As well as the above fees, which are deducted at check-out, an option exists in your account on the Vivero App for you to support the fiscal host Possible Planet (who provides Vivero and the ER Fund with fiscal sponsorship free of charge) and/or to the Tech Service Provider who has developed the Vivero app technology free and continues to develop and maintain Vivero. In addition, Open Collective invites an optional donation on its website.
Do I save money by making a one time payment rather than spread my giving monthly?
It does cost a little more to make monthly payments than a single payment for the same amount. For example, a one-time payment of $120 incurs $2.94 in fees (for non-Amex cards). The same $120 donated as $10 per month over twelve months will incur additional fees of $3.30, which works out as $0.275 extra per month over the whole year.
For many of us, the convenience of gifting small amounts monthly makes a minimal extra fee worthwhile. It is always for you to choose how much to give and when. Some members with the means to do so make regular monthly fees and offer one time payments if called to contribute to a specific campaign.
Can I get a tax receipt for my Vivero donation?
Everyone who contributes to Vivero or donates directly to the ER Fund receives a receipt acknowledging their donation. Since Vivero is fiscally hosted by US 501(c)(3) non-profit, Possible Planet, taxpayers in the US are eligible for tax deductions on their Vivero donations. If you pay taxes outside the US, you may need to seek in-country advice on your eligibility for tax deductions. Open Collective provides us with the infrastructure to issue receipts and invoices.
Are there other ways to contribute to the ER Fund Group outside Vivero?
Yes, there are. We know that there is no one solution that fits all, so we offer a range of contribution channels. Other ways to contribute to the ER Fund Group are:
direct transfer to the ER Fund account — Account 814779695 (Routing number 221283512) (Affinity Federal Credit Union, NJ)
Check or Bill Pay to "CRCS/ER Fund," c/o 41 Elwell Drive, Rochester, NY 14618
What if I want to contribute to Vivero but I can't afford to give?
Vivero's primary focus is on growing a vibrant flow of money and gift exchange. As a regenerative gift economy community we also value reciprocal sharing of both financial and non-financial contributions.
Numerous opportunities exist within our community on Mighty Networks for you to contribute your time and personal gifts. Once your activities and stewardship within ER becomes known to your fellow Earth Regenerators, it becomes easy for you to be recognised as a Vivero contributor, whether or not you give money. We hope you are inspired to join our gift economy to share your gifts and receive reciprocal support on your path as an Earth Regenerator. Every gift you make in Earth Regenerators is wholeheartedly welcomed, whatever its form.
Vivero shows a Giving Balance and an Endowment Balance. What does this mean?
Currently 100% of your financial contributions go into the Giving Balance, which is held in the ER Fund account. We are also working to create a Vivero Endowment Fund for Earth Regenerators, through establishing a Giving Trust hosted by Possible Planet and to be governed through the ER Fund group. This is not yet open to Vivero contributors, although the Vivero app has an endowment balance gift to Vivero by Todd Youngblood, which harvests prior investments within Regen Network and Giveth.
As a Vivero contributor, you will have the choice to opt-in to and add to the Endowment Fund when it opens. You will also be able to choose how your gift is allocated between the Giving Balance and the Endowment. A longer-term vision is for Vivero Contributors to participate directly in community staking decisions relating to the Endowment Fund.
Can I select which Vivero projects I want to contribute to?
While all Vivero contributions go into a common fund, each contributor has a voice in how gifts from the fund are distributed to Vivero beneficiaries. Here's our anticipated procedure for the next round of calls for applications and gift allocation which, according to availability of funds, will be announced around the time of March 20th Equinox:
1. When the ER Fund group gives a 'green light', the Gifts Facilitator puts out a call in Vivero and ER for applications, with guidelines for criteria and how and where to apply for gifts.
2. Applications go through a preliminary sorting process. If any key elements are missing, the applicant is invited to accept additional support (for example, an advisory circle in the Regenerative Project Incubator or a meeting with volunteer mentors). If the application is complete, it receives a dedicated thread in Vivero Loomio, where the applicant shares details with their Vivero peers.
3. During this review period, Vivero Loomio members may use the thread to ask the applicant for clarification, invite more information and even offer collaborative resources. Everything in the Vivero process is intended to generate ER community support for each applicant.
4. At the end of the review period, Vivero Loomio members are invited to participate in a poll to determine the allocation of gifts. Each member has a total of 100 'gift points' to distribute between applications of their choice.
5. At the following ER Fund group meeting, results of the gift distribution poll are matched to available funds. Applicants are contacted by the Gifts Facilitator and invited to accept their gift. Results are then published in Vivero and the ER community, while the ER Fund's Accounting Angel has the happy task of administering gifts to our new round of Vivero beneficiaries.
6. When this gifting round is complete, the ER Fund and Vivero Circle will hold a learning review, in which Vivero community members are invited to give feedback. Meanwhile, Vivero Circle's storyteller supports and encourages Vivero beneficiaries to share their stories within the network, for ongoing support and community learning.
Vivero and You!
Together, we make Earth Regeneration happen.
Sign me up!
Vivero is a collaborative community initiative of
Possible Planet
,
Serve Commons PBC
, and Earth Regenerators.
Contributions made through Vivero are received by the Earth Regenerators Fund and governed by the community-led ER Fund Group.